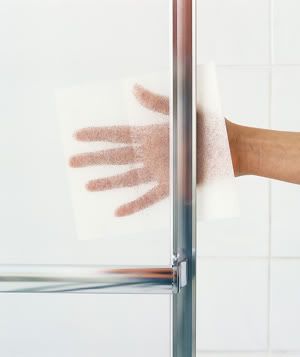 I love this blog. She is full of great ideas that I am continuously being inspired by. On Tuesdays she does The Tuesday 10 where she highlights tons of clever ideas. Like 10 uses for dryer sheets besides putting them in the dryer.
One of those ideas was using a damp used sheet for cleaning soap scum off your shower.
Here's where I have a confession to make.
I am not a great housewife.
I like to have a clean house and I do try to keep it clean, but there are some things that I really REALLY hate cleaning.
Like the shower.
I would like to apologize to the world for allowing this to exist.
These are the times I am grateful that Tyson is blind without his contacts. And that he doesn't wear them while he showers.
So, in accordance with the website, I used my dryer sheet to scrub the shower doors.
And not user friendly. It was kinda like cleaning a glass with a wet piece of paper. It
did
start spreading a film of something all over that was maybe the soap scum coming off? That's the optimistic point of view anyway. When I was done I sprayed the door with water and wiped it with a microfiber towel.
In order to know if it worked any better than regular cleaner I thought I'd do a comparison with what I usually use, Clubbing Troubles (not its real name), so I cleaned one door with the sheet and one with the cleaner.
There was a difference.
By the way I totally used one of Tyson's socks from the laundry basket (okay fine, FINE it was on the floor) to wipe dust off the baseboard before I took this picture.
Maybe it was because I didn't use Pounce (the most magical of all dryer sheets, perhaps weaved with unicorn hair?(also not its real name)) but I wasn't impressed.
And did I clean the rest of the bathroom once I cleaned the doors (door)? No.
Did I even clean the rest of the shower? No. Terrible!
Stop me before I tell you how often I wash our sheets.
But at least the blog lives on.
Only one more day of the challenge. Sad!